SCEPTER SMALL BORE: A SMALL SCEPTER THAT WILL MAKE YOU A GREAT KING!
Our Victrix Armaments "royal" family is growing: here is the newborn Victrix Scepter SB, our first Victrix Small Bore single-shot designed and manufactured for all ELR disciplines in caliber. 22 LR.
Like all rifles of our Victrix Small Bore line, you can simulate the difficulties of standard calibers at much smaller distances, in shooting ranges more widespread on the area and with a smaller cost of ammunition. Therefore, our Victrix Small Bore line is ideal for both enthusiasts looking for fun and professional shooters who need a constant training on the shooting line.
Our newborn Scepter SB is the first Victrix Small Bore single-shot rifle, specifically designed for ELR precision shooting for small calibers and also shows two new important features.
The first refers to the ammunition you can use. The barrel is available in 24" and 27", also threaded at barrel muzzle, and with different twist rates: 1/16 is for commercial standard ammunition in cal. .22 L.R., 1/10 and 1/7 are ideal for ammunition reloaded with solid bullets, a practice that growing in the last years in Italy, whilst worldwide is already very widespread.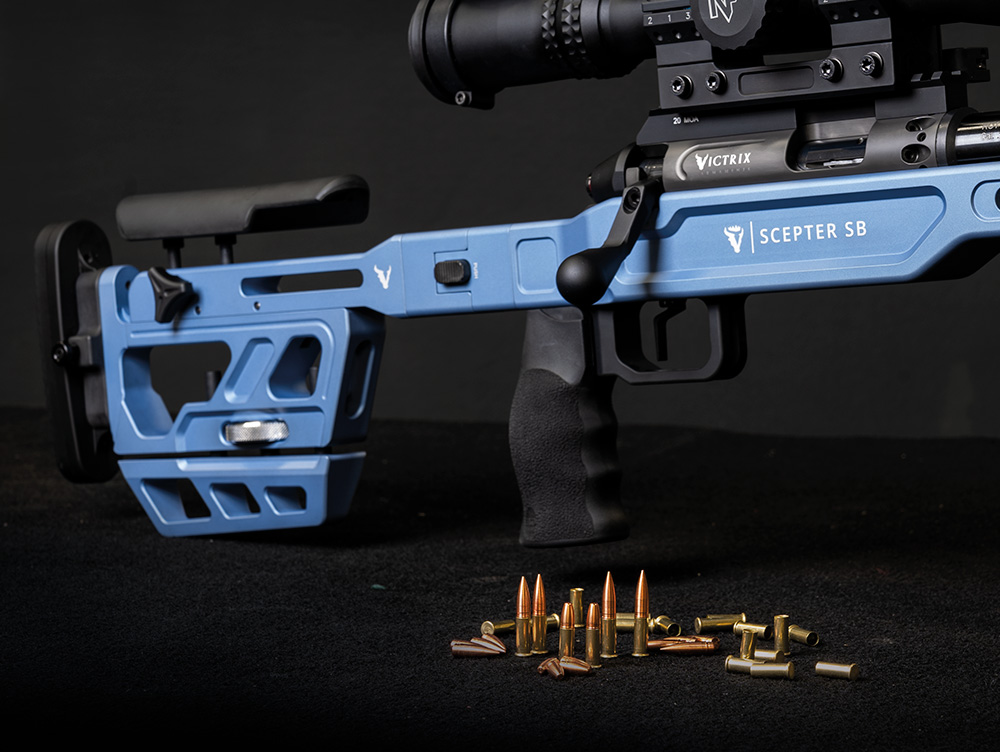 The second feature is its new multi-adjustable buttstock, now also installed onto our Victrix Scepter in standard caliber.
The lower part of the buttstock has been revised to get a smoother adjustment and a greater range than the previous version, so that a shooter can easily and quickly find a comfortable and steady shooting position.
Our Scepter SB is equipped with a sporting trigger also used on the other single-shot "V" Sporting series Victrix rifles.
The bolt, specifically designed for a single-shot action, uses the same technical solutions of the other Victrix Small Bore: it's equipped with a double extractor and a quick disassembly system that makes it easy to clean, even out on field.
Victrix Scepter SB is the single-shot rifle that was missing, but now it's here!
A small scepter that will make you a great king!